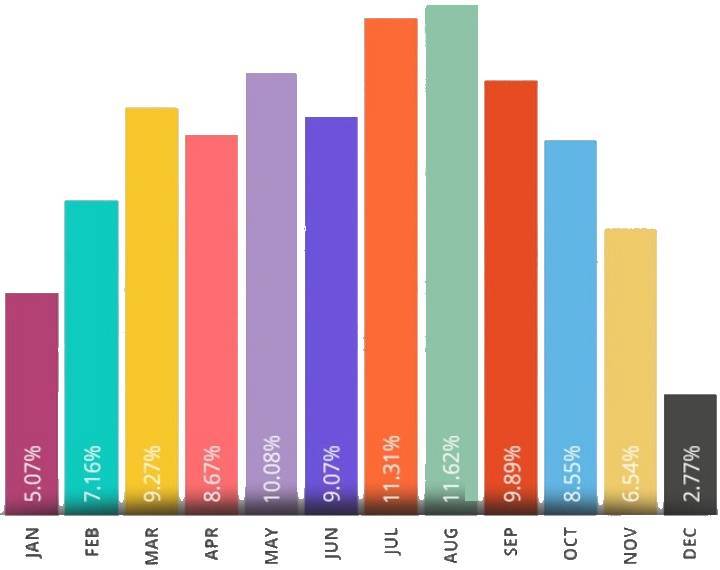 April, or May are seen as traditional times to move and remain busy, although the warmth and long evenings of summer prove more popular.
---
Alongside the time of year, the size of property people are moving from reflects the UK's housing stock. The data we use comes from a substantial number of UK moves over a decade, carried out by removal companies.
With self moving not included, just 4% of requests are for studio flats, or bedsits. 1 bed accommodation, normally a flat, fills 18%, 2 and 3 bed homes are almost equally split at just under 30% each, 4 bed or more make up 14%.
The remaining 5% or so covers partial moves, taking items to storage, or the additional tasks which come from over a million homes a year being sold.
A Varied Nation
Net migration into cities remains positive, with London, Manchester and Birmingham popular places. Even so, as a Surrey removals company, we often take families seeking a quieter life in the opposite direction.
Similarly, Surrey has a well above average stock of detached homes, which is reflected in our work. Not that the county has missed out on the high numbers of flats built over the last 20 years, where we often assist.
As former retail, or office buildings and land become residential in the future, the trend towards smaller homes could be reinforced. The coronavirus pandemic has seen more home space required but this may not continue.
Practical and political needs are likely to bring new housing initiatives, with less spacious housing built in most areas.
Requirements To Be Met
A removals company needs to look at trends because they have a duty to provide good support. Together with considering the ability to serve a range of properties, time of the week matters to many clients.
Monday is a popular day, with around 15% of moves. The midweek tends to see about 12% per day, until Friday comes, with 26% of all moves. Weekend removals remain popular, Saturday is the second busiest day, at 18%.
Having a quiet Sunday to settle in makes sense and we need to be able to provide a service to suit. The same can apply to overnight moves, often to Europe.
Whilst Brexit has brought concerns, moving to France, Spain, Italy, or Ireland will remain active choices. The USA and Australia also see a fair number of journeys, so shipping facilities should be first rate.
Looking Forward
The cost of a professional removal has not gone up over the last decade in real terms, slightly the opposite. A trend we want to see continue, with a focus on efficiency alongside steady growth.
Developments in technology have assisted with this and will continue to do so. Improved planning, communication, navigation and tracking require investment but save cost and make removals time more pleasant for all involved.
We do not however expect to see driverless removals vans, or robots to carry in your possessions. The face of business and home life will change but good support should continue to be based on personal service.