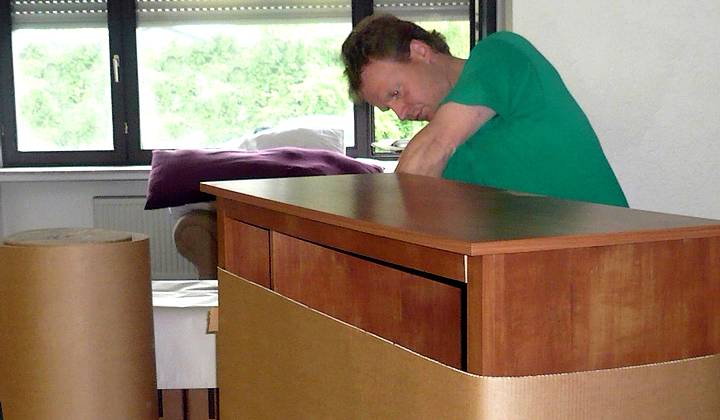 A good percentage of our removals, or storage customers prefer to have us pack for them, saving time and helping to ensure the safety of their possessions
We still appreciate that many are happy to pack for themselves and supply good quality packing materials at rational cost. Using poor materials to save a small amount can achieve the opposite, bring damage to items you treasure.
Not that we wish to put you off packing yourselves if you choose. Our guide to packing up a household should give a decent start:
Essential Packing Advice
As well as listing items to be packed, make a list of tasks. Does the wardrobe need taking apart, fires removed, light fittings swapping. Any assistance from tradesmen should be booked well in advance and tools you might need be in place:
Plan your packing –

Go through the household to create priority lists, which will also help with listing any items you decide not to take with you.

Don't pack unwanted items –

Make a trip to charity shops, take a stall at one of Surrey's car boot sales, try ebay, or a real world auction. Packing and moving what you will unpack, then pack again to dispose of, is best avoided.

With a packing list made –

Work out what you will need in terms of boxes, bubble wrap, tape and bring those home well in advance, along with saving newspapers, or containers.

Use good packing materials –

A specialist retailer, or removal company will supply boxes which are strong and other materials which protect well. Even so, try not to overfill your boxes so they are too heavy to move.

Avoid damage and contamination –

Keep anything which might be hazardous, or could stain other items completely separate. Check the seal on containers you use.

Still make sure you are covered –

With the best preparation in the world, accidents can happen. If you pack yourselves, ensure your household insurance covers as many eventualities as possible, for replacement and loss.
Before You Move
Allow plenty of time –

Packing will take time and the best way to ensure damage is not to allow sufficient time. Also useful to have time to look through unexpected finds and decide which you might like to keep, or renovate.

Deal with problem areas first –

Attics, garages, sheds, or internal store rooms can take up more time than appears likely and more effort. Ensuring they are out of the way at an early stage can avoid your schedule going awry.

One room at a time –

Pack and finish individual rooms where possible, including labels on boxes for which room they belong to. Much easier to recreate the household on arrival.

Take labelling further –

Apart from location within the house, label each box with content details and degree of fragility. Apart from showing the need for care, this protects boxes which should not have others stacked on top.

Wrap breakables thoroughly –

Using extra paper, or bubble wrap, even a spare pillow or two is worth the trouble. Getting through a move with nothing damaged is an achievement but one which can happen with care.

Protect all valuables –

Documents and cash should be in a safe place, yet the same applies to items which you feel are important. Family photos, personal gifts, even the cup you enjoy using. Make sure they have a safe move as well.
Removals Day
If your new home resembles the old before dusk, you have done well. Removals staff should help ensure much is replicated but there will be details to finalise, make sure essentials are catered for:
Keep basics to hand –

Coffee, tea, food for the day, a kettle, whatever else you may need in the kitchen to manage for 24 hours, particularly without too much need for preparation.

Pack overnight bags –

Never any harm having these ready for each member of the family, treat the situation as if you were all going to a log cabin for the night.

Keep tools handy –

Searching for a screwdriver can be more than a nuisance. Torches, lightbulbs, writing paper, mobile phones, toiletries and medication. All too easy to bury core needs if you don't separate them.

Avoid domestic tasks –

From washing clothes to washing the car, last minute cleaning, popping to the dry cleaners. Making sure you have a 48 hour slot without those concerns is worthwhile.

Load items in order –

Point out to the removals company staff which boxes you would like to be readily available when you arrive and easy to locate later, they should be happy to order loading and unloading to suit.

Items From The Day –

Don't forget anything you used, or dismantled. Phone chargers, tools, screws from disassembly, paperwork for phone calls, a bank card you read out on the call, the bike for popping to the shops.
We naturally wish everyone a safe and happy move. Our teams are available to help nationally and locally, such as for Guildford Area Removals. Should you be moving by other means, we hope our suggestions on packing helped.