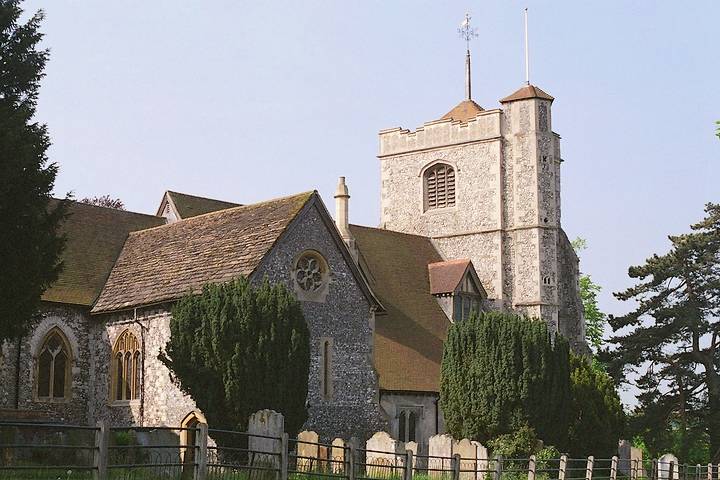 Parts of Leatherhead's church of St Mary & St Nicholas date back to the 11th century, midway between the point where the area became a recognisable settlement and the times we live in.
Before becoming Mole Valley in 1974, Leatherhead, along with Great Bookham, Little Bookham, Fetcham, and Ashtead formed a separate district. This covered much of the 20th century, although the town existed long before.
From Ancient Times
What is now Leatherhead was historically called Leodridan by the Anglo Saxons and Llwydrhyd in old English (close to Welsh). Both roughly translating as a place to cross the river, although the Mole had attracted earlier visitors, with farm settlements in prehistoric times
The Druid's Grove at Norbury Park and nearby burial barrows points to those times, with the remnants of a Roman road redeveloped by the Saxons also reflecting religious belief. Churches from the 10th century to the present day laying along the route.
The first church features in the Domesday Book, records of market established in the town appear not long after. A royal charter was granted to the market in 1248, along with the right to hold an annual fair.
Refreshments have always been welcome and one provider from around 1400, the Running Horse pub, still stands in the town. We wonder if John Wesley would have approved, who gave his last public sermon in Leatherhead in 1791.
Clergymen were also responsible for building St John's School, along with supporting the Leatherhead Institute. Figures from business and the media, such as Max Aitken, found the area equally welcoming, as Leatherhead approached a new era.
Modern Development
Well known industrial companies such as Ronson and Goblin grew in Leatherhead, as the 20th century created demand. A Remploy factory was also established in the town, before closing, a while after much of the industry went in the 1980s.
The plan was to switch to new industry, the service sector, commercial support and distribution. The District Council modernised the town accordingly, the birth of pedestrian zones and traffic systems we now see in place.
Railway links had been established long before, since 1859 and driven the area's growth. In 1986, the new Leatherhead road layout joined the motorway system, via the M25, encouraging more settlement.
The town has in many ways prospered, with the population now around 12,000. They are served by a theatre which holds a respected drama festival, a leisure centre, a football club, a range of retailers and civic amenities.
Sitting in mid Surrey is a further advantage. With London easily accessible, Leatherhead, or Ashtead Commons nearby, the South Downs and the coast not far away. A mix of facilities and peace available within a reasonable distance.
Above all, through ups and downs the people have supported each other, therefore their town. We feel privileged to offer removals in Leatherhead and enjoy working with our clients, by all means get in touch if we can help.