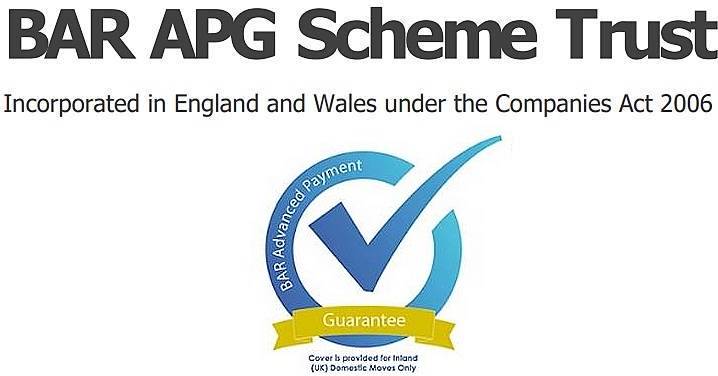 Making payments in advance for removals is normal practice. Farrer & Fenwick have been in business for many years and are in a solid financial position but still wish to ensure that our customers money is protected.
We are a member of the BAR Advanced Payment Guarantee Scheme Trust. Membership guarantees that if your removal company did become insolvent and advance payment had been made, you would be covered for the cost of your removal.
This gives you peace of mind, through knowing that even if unlikely events took place, your move could go ahead without financial loss. The scheme is well established and operates in a logical way.
Terms & Conditions
The objective is to make sure that the costs of completing your contracted move are covered, for all removals to and from any UK destination.
The scheme applies to domestic customers only and is not intended to cover business removals, or moving commercial items.
Payment must have been made by cheque, debit card, bank transfer or cash. Credit card payments are covered under the Consumer Credit Act.
Compensation is for reasonable costs of completing the contracted move, not exceeding the amount prepaid for the work.
The guarantee is limited to either £50,000 in total for any one member business, or £100,000 for multiple claims.
Claims need to be filed and evidenced within 6 months, seeking guidance from BAR before this is strongly recommended.
Please bear in mind the scheme is meant to be a last resort guarantee, where removal companies have gone into liquidation. An alternative is in place for dispute resolution and if a company is under administration, you normally deal with the administrator.
Providing All Round Cover
As BAR members, protecting customers is a priority for us. Your consumer rights are a pleasure to honour, insurance for your possessions is part of our removals, staff are well trained and chosen because they care.
We belong to the British Association of Removers dispute resolution scheme, which is independently operated by the Furniture & Home Improvement Ombudsman.
The Advanced Payment Guarantee Scheme is an addition we could never imagine coming into use for our customers but still good to know this is there. You can see, or download a copy of our current certificate from the button below: